Aston Martin DB7
VANTAGE FRONT WHEEL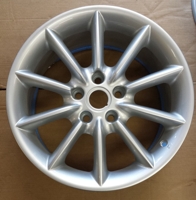 REFURBISHED FRONT WHEEL FOR DB7 VANTAGE
NO EXCHANGE REQUIRED.
THESE ARE NOW ONLY AVAILABLE AS AN EXCHANGE PART FROM ASTON MARTIN, WE HAVE TWO IN STOCK WHICH WE DO NOT NEED AN EXCHANGE WHEEL FOR.
WHILE NO EXCHANGE IS REQUIRED SHOULD YOU WISH TO EXCHANGE YOUR OLD WHEEL WE WILL REFUND £90 BACK TO YOUR CARD ON RECEIPT OF YOUR OLD WHEEL, IT MUST NOT BE BENT OR CRACKED AS WE DO NOT HAVE WHEELS WELDED OR STRAIGHTENED, PLEASE ADVISE AT THE TIME OF PURCHASE IF YOU INTEND TO RETURN YOUR PLD WHEEL.
GENUINE ASTON MARTIN
8J X 18"
Condition: REFURBISHED