Aston Martin DB7
J1 WASHABLE AIR FILTER KIT DB7 VANTAGE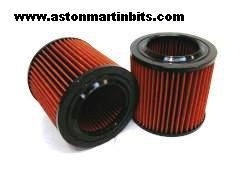 J1 WASHABLE AIR FILTER FOR DB7 VANTAGE
Designed as a direct replacement for the existing paper stock filter, this performance cotton filter can be fitted easily into the existing Air Cleaner without any modifications. Kit provides components for both Air Cleaners.

Kit includes:

• 2 x Performance Cotton Filters - Pre-Oiled

• 1 x Fitting Instructions

The j1 performance Air Filter's experience 35% less restriction when compared to the stock filter, which is twice that measured on any competitors. Efficiency levels remain high at 96% compared to 98% on the stock (paper) filter, with only 94% measured on the competitors, therefore maintaining the required excellent engine protection (Tests conducted to ISO 5011 International Standards). Installation couldn't be easier, as the filter has been designed for direct replacement with no modifications on the Air Cleaner. All j1 filters are supplied pre-oiled.
Condition: NEW