Aston Martin DB7
Clutch Master cylinder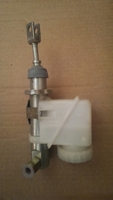 Clutch master cylinder for Manual DB7 VANTAGE MODELS FITS ALL YEARS and ZAGATO BUT NOT GT VERSIONS.
NOTE THIS IS THE ORIGIONAL MASTER CYLINDER AS FITTED TO CARS FROM FACTORY with SINGLE PLATE CLUTCH, DOES NOT FIT CARS WITH THE UPRATED TWIN PLATE CLUTCH.
PLEASE CHECK WHICH YOU HAVE BEFORE ORDERING AS A SURCHARGE WILL BE APPLIED IF RETURNED.
Condition: New