Aston Martin V12 Zagato
SEAT BELT ASSEMBLY LEFT SIDE FOR LHD CHARCOAL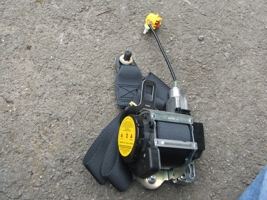 SEAT BELT ASSEMBLY AS PICTURED. NEW, GENUINE ASTON PART
FRONT DRIVER SIDE LHD - USA & EUROPE.
PLEASE NOTE - THE BELT COLOUR IS WARM CHARCOAL - WHICH IS A VERY DARK GREY ( ASTON MARTIN HAVE NEVER FITTED BLACK BELTS, WARM CHARCOAL IS REGULARLY MISTAKEN FOR BLACK.)
THE ONLY OTHER COLOUR FITTED WAS FLINT WHICH IS A LIGHTER COLOUR
PLEASE CHECK ON THE METAL PART OF YOUR SEAT BELT REEL IF IN DOUBT
NOTE THAT WE CANNOT SEND THESE BY AIR - EFFECTIVELY LIMITING DELIVERY TO EUROPE. SADLY WE NEED TO ASK YOU NOT TO ADD THESE TO YOUR BASKET IF YOU WANT DELIVERY OUTSIDE THE EEC.
Condition: NEW