Aston Martin DBS
RIGHT SIDE CARBON MIRROR 2008 ON 6G33 TYPE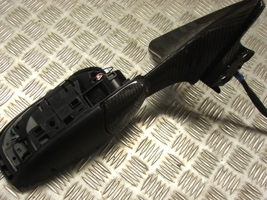 FITTED TO DBS UNTIL 2010, WILL RETROFIT TO VIRAGE, NEW DB9 & EARLIER DB9 - SEE BELOW. THIS IS THE VERSION WITH THE SAME SHAPED MIRROR HEAD AS V8 VANTAGE USED UNTIL 2010.
FITS ALL YEARS & MODELS COUPE OR VOLANTE.
THIS LISTING FOR A USED LEFT SIDE POWER FOLD & MEMORY MIRROR WITH CARBON BASE.
THESE MIRRORS DO NOT COME WITH THE COLOURED CAPS OR MIRROR LENS'S, THESE CAN BE FOUND ON OUR WEBSITE BY SEARCHING 'AG33 TYPE MIRROR'
DIRECT FIT TO EARLIER DB9'S, COUPE OR VOLANTE, HOWEVER OWNERS OF EARLY CARS WITH A VIN ENDING LESS THAN 5151 ( AROUND 2007) SHOULD CHECK IF THE MIRRORS HAVE BEEN UPDATED (- MANY HAVE BEEN UNDER WARRANTY), THE EASIEST WAY TO TELL IS IF THE INNER TRIM IS SECURED WITH 3 SCREWS, ( SEE PICTURE) IF IT IS NO MORE PARTS ARE NEEDED, IF THE TRIM HAS NO SCREWS BUT IS CLIPPED ON YOU WILL NEED MORE PARTS, CONTACT US FOR DETAILS.
The quality of the carbon is not perfect on this mirror, hence the reduced price. The carbon layer and has been flattened whilst moulded over the arm. Still a gorgeous looking mirror. Have tried to show defects in the photos (not easy to capture).
Condition: USED