Aston Martin DBS
REAR NEW TYPE LEFT SUSPENSION KNUCKLE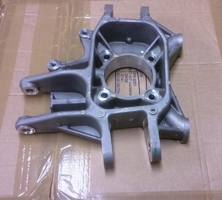 LATE TYPE REAR LEFT HAND SUSPENSION KNUCKLE FOR DBS, VIRAGE,DB9 & V8 VANTAGE AML PART NUMBER - 8D33-5A971-AB. AML RETAIL PRICE WAS - £205.80 NO LONGER AVAILABLE FROM AML
IT IS IMPORTANT TO NOTE THAT EARLY V8 VANTAGES & Db9's WERE FITTED WITH 4G43/7G43-5A970-AA AND 4G43/7G43-5A971-AA (PRIOR TO VIN GD08958) ASTON NO LONGER MAKE THIS PART AND THE CARS MAY ALREADY HAVE HAD BOTH BOTH KNUCKLES REPLACED WITH THE LATER TYPE AS A PAIR.
PLEASE CHECK THE MEASUREMENT SHOWN IS CORRECT, IF SHORTER SEE OUR OTHER LISTING FOR THE EARLY TYPE.
IT IS NOT SAFE TO FIT 1 OF EACH TYPE.
Condition: USED