Aston Martin DB9
FOOTWELL CARPET SET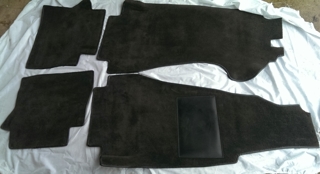 GENUINE ASTON MARTIN PHANTOM GREY FOOTWELL CARPET SET - NOT MATS, FRONT AND REAR (4 PIECES)- RIGHT HAND DRIVE.
GOOD CONDITION, NO RIPS TEARS OR THE LIKE.
THIS SET FOR A DB9 BUT ONLY 1 REAR CARPET HAS A SLIGHT DIFFERENCE TO DBS, VIRAGE AND NEW DB9.
WE BELIEVE THE FRONTS FIT V8 & V12 VANTAGE PLUS RAPIDE TOO BUT, SUGGEST CHECKING MEASUREMENTS BEFORE PURCHASE FOR THOSE MODELS AS WE HAVE NOT HAD THE OPPUTUNITY TO CHECK THIS.
Condition: USED,