Aston Martin Rapide
DOOR SURROUND RIGHT SIDE C POST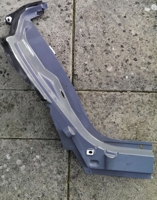 THIS PANEL IS THE REAR PART OF THE REAR IGHT SIDE DOOR SURROUND - C POST. NOTE THAT THIS IS NOT A COMPLETE PANEL - ONLY THE PART YOU SEE IN THE PICTURE.
ASTON ALLOW THE FITMENT OF PART PANEL FOR THIS PART.
THIS PANEL IS RESTRICTED, IE ASTON DO NOT SELL IT - ONLY SUPPLIED TO A FEW CATEGORY A REPAIRERS, FROM WHOM THE UK RETAIL PRICE IS £1463.27 PLUS FITTING.
Condition: NEW