Aston Martin Rapide
ROOF SUPPORT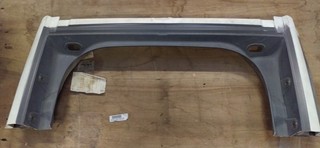 THIS IS THE TOP OF THE REAR HATCH BACK OPENING OR BOOT SURROUND.
ASTON ALLOW REPAIR TO THE HATCH SURROUND USING 3/4 OF THE PANEL, THIS IS THE LEFT OVER PART OF SAID TRUNK SURROUND,UNUSALLY IT INCLUDES THE METAL MOUNTS FOR THE HINGES.
MAY BE OF USE TO SOMEONE REPLACING A DAMAGED ROOF OR FOR REPAIRS AFTER THE HINGES HAVE BROKEN FREE.
Condition: NEW