Aston Martin V12 Vantage
REAR PARCEL SHELF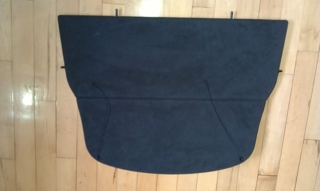 NEW GENUINE ASTON MARTIN
REAR PARCEL SHELF - PACKAGE TRAY
THERE ARE 2 TYPES, THIS IS LATER TYPE,CHANGE TOOK PLACE APPROX 2008
THE EARLY TYPE SHELVES HAVE BEEN DISCONTINUED BY ASTON MARTIN, THEY RECOMMEND YOU REPLACE WITH THIS LATER TYPE & ALSO ORDER THE TWO SIDE PIECES IT ATTACHES TO ( REAR PILLAR TRIMS) BUT THESE ARE DEARER THAN THE SHELF... SEVERAL CUSTOMERS HAVE TOLD US THEY HAVE MODIFIED THEIR EXISTING SIDE PIECES TO ALLOW THE LATER LOCATING PINS TO FIT.
THE DIFFERENCE IS THE SIDE LOCATING PINS ARE SPRING LOADED ON THE EARLIER TYPE PARCEL SHELF TO ALLOW IT TO CLIP IN - LATER TYPE THE PINS ARE FIXED,WITH A SLOT IN THE REAR PILLAR TRIMS RATHER THAN A SIMPLE HOLE. Picture of later pillar trim now added.

One of our customers ( thanks Graham!) has been kind enough to send pictures and description of his solution, he cut off the pins and replaced them from his local DIY store with two neat sliding bolts as used on furniture doors, please see pictures.
WE ARE OF COURSE HAPPY TO SUPPLY THE NEW TYPE REAR PILLAR TRIMS TOO, CONTACT US FOR THIS OPTION.
Condition: NEW