Aston Martin V12 Vantage
LEFT REAR QUARTER WING PANEL FENDER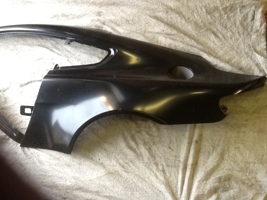 NEW GENUINE ASTON MARTIN PART FITS ALL YEARS OF COUPE.
FULL REAR QUARTER PANEL INCLUDING C PILLAR AND ROOF GUTTER TO A POST, NOTE FITTING THIS COMPLETE REQUIRES WINDSCREEN OUT AND ROOFSKIN OFF ASTON MARTIN HAVE APPROVED A REPAIR SCHEME USING A CUT PANEL WE HAVE THEM IN OUR OTHER ITEMS AT A LOWER PRICE. SHIPPING IS CHEAPER TOO PARTICULARLY INTERNATIONALLY

I JUST NOTICED WE SEEM TO HAVE LOST PART OF THE PICTURE OF THIS PART, ITS NOW PACKED IN THE WAREHOUSE, PLEASE NOTE IT IS A FULL PANEL INCLUDING ALL THE ROOF RAIL UP TO THE A POST.

Condition: NEW