Aston Martin Virage
HT COIL PLUG CAP 3 PIN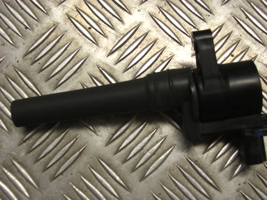 Genuine Aston Martin
3 PIN TYPE HIGH Tension IGNITION coil PLUG CAP, note that for DB9 there is a 2 pin type too and you need the correct one,
This version used ON ALL THE V12 ENGINES FROM 2008 onwards and some 2007 DB9
For DB9 it is important Aston Martin themselves have no record of when the change from 2 pin coils to 3 pin was made, they advise only way to be sure is to remove one.
Customer feedback tells us that 2 pin are fitted until 2006 and 3 pin from 2008 onwards but we cannot guarantee this, we will of course change them if you buy the wrong ones but carriage is your responsibility, we strongly suggest you check before ordering.
For cars made between 2006 and 2008 we cannot advise, you have to check yourself.
Some suggested ways of doing this without removing the manifolds are to get a part no from engine wiring loom or to check the no of wires going to the coil.
Removed from a low mileage car
X12 AVAILABLE
Condition: USED